About Stillwater Addition Kitchen Bath and Library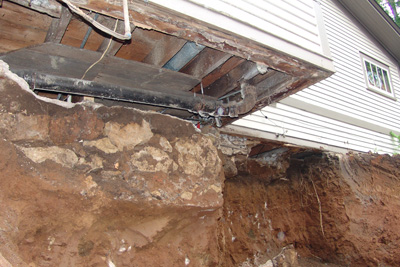 This charming turn-of-the-century (1899-1900) home had a decades old cantilevered kitchen and bath added to it at one time. These had to go as did the shallow foundation that supported them. The old rear entry would be replaced as well and closet space and a library room created along with a new front porch.
Terminating existing utilities and providing adequate shoring and support of the existing structure are always addressed properly to ensure stability during the demolition process.
Notice the stained glass window at the right corner of the facing exterior wall in these photos. It will be re-purposed in a closet in the new addition of this Stillwater home.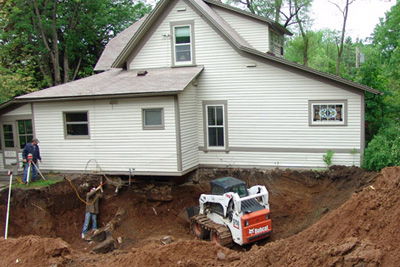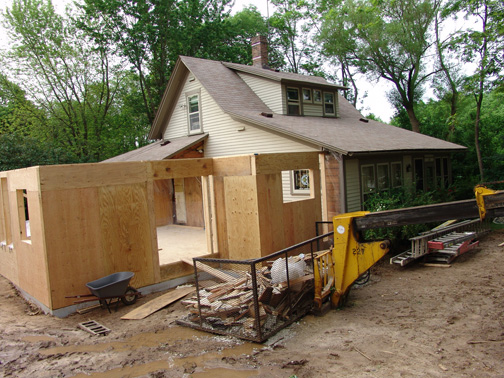 After careful excavation, a new full-basement foundation and block work, the old kitchen on the left below would soon become the beautiful kitchen on the right. A new entry leads into a fabulous kitchen design including fir flooring, granite countertops, and maple cabinets w/cherry accents.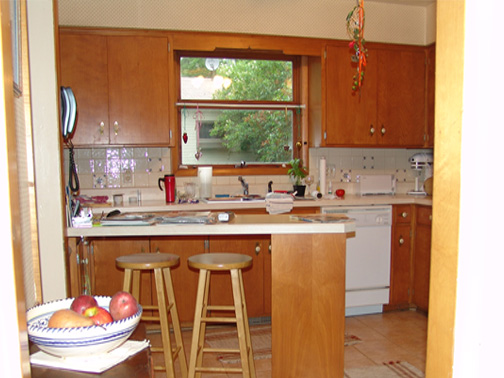 This addition added a lot of living space with a full basement that now has a wide and attractive stairway. The new roof lines are styled in the existing architecture and offset to accommodate the vaulted roof in parts of the kitchen addition.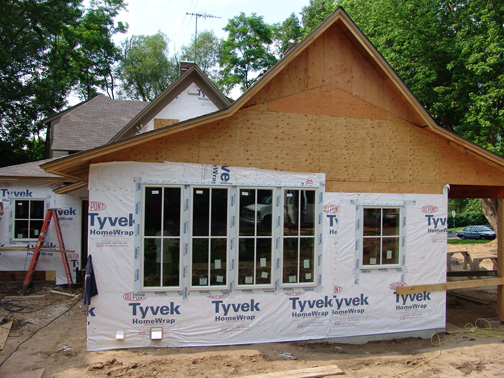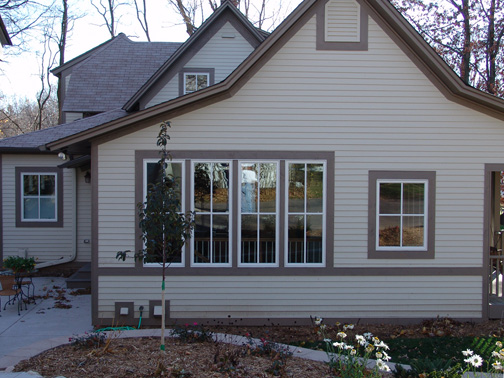 The photo on the left shows the re-use of the stained glass window mentioned above. A great way to incorporate a little of the old structure with the new. The homeowners insisted on the highest quality materials as evidenced in the beautiful lines as the clear cedar siding is being applied. Matching the existing materials on the old home was important. And it always helps to have great carpernters doing the work!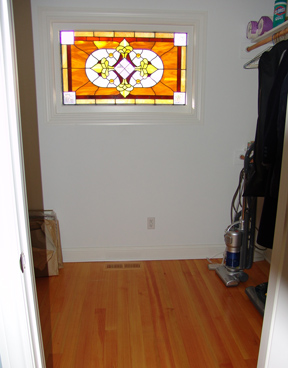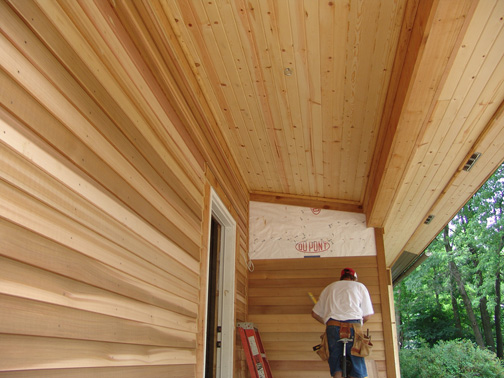 An attractive stairway with period-style railing accents a wall of windows providing light and a view to the outdoors. The new bath with corner whirlpool and granite counter-top is adjacent to the new rear entry.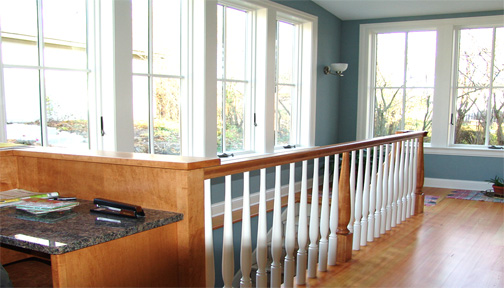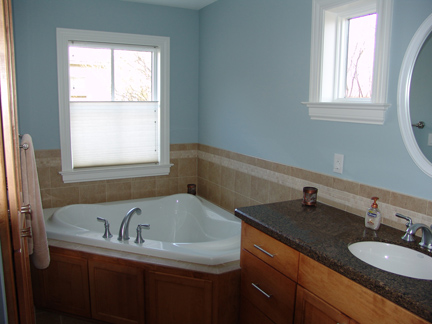 The grade in the lot provided opportunity for gorgeous landscaping and creating perfect areas in the yard for lawn as well as gardens. From to the old grade on the left to the finished landscaping on the right.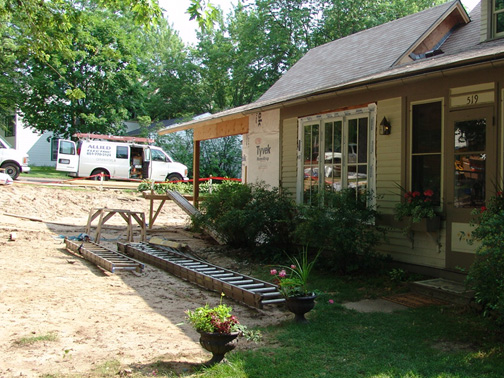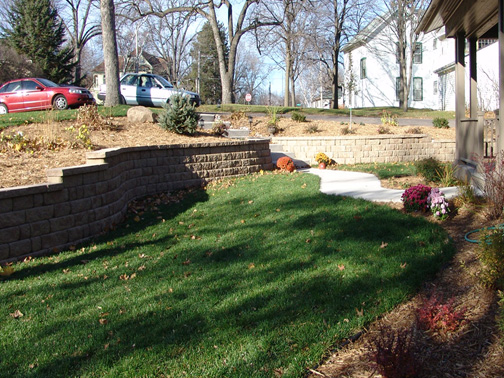 Craftsmanship abounds in this masterful bringing together of design and homeowner goals, while maintaining original architecture with the use of custom milled woodwork.
The owners of Showcase Renovations, Stephen Roche and Kevin Kish, are pictured below while working on this project. They are regulars on their job sites and you can count on their presence on every Showcase project.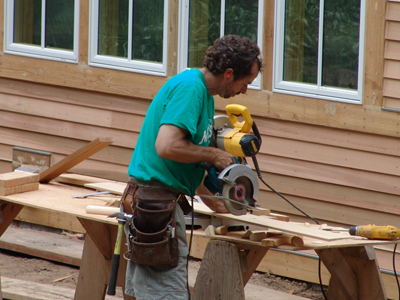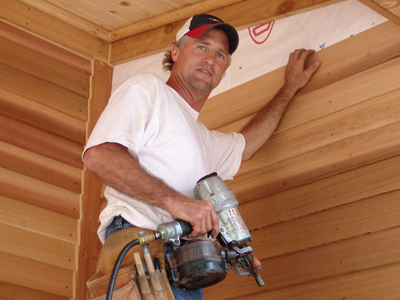 A picture of Steve with the homeowner and pics of the rest of the crew.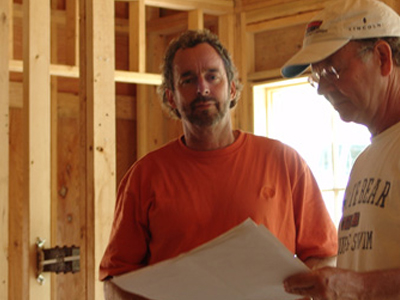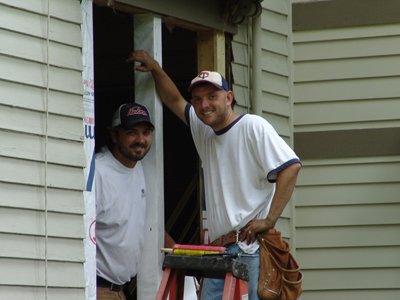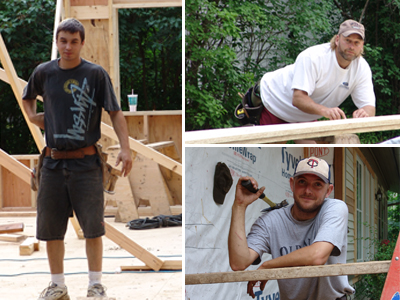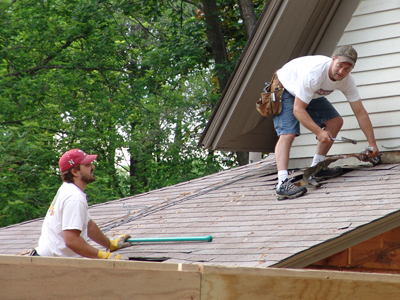 Bigger pictures can be found here! Let us know if you have a challenging (or easy to do!) remodeling project in the Minneapolis and St. Paul area!