About South Haven Whole House Renovation
For us, this project is all about The Lady of The Lake. It's a story about how a city dwelling family's lake home received some wonderful changes and new life. Enjoy!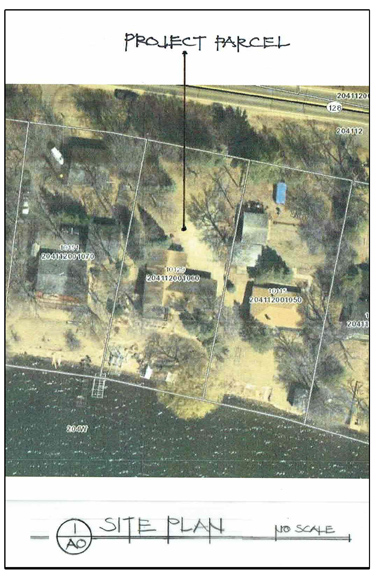 Goals and Aspirations
Having enjoyed their 70's ranch style home for 18 years the owners were ready for a change. The "down-and-dirty" pieces were extending the roof for the new entry, and replacing an inefficient baseboard heating system with a modern and high efficiency mechanical system. The fun piece was creating a beautiful new interior with some of the finest products available.
Upon completion of the project they now have a home with a fresh aesthetic and improved functionality for living, cooking, dining, relaxing, and entertaining. The Lady of the Lake says, "We wanted an inviting entry, an improved lake view, updated kitchen and guest bath, and maintenance-free materials. We shared our wishes with SALA Architects and Showcase Renovations who were able to turn our wishes into reality."
Enhancements
The new space has a light open feel. Kitchen space improved dramatically with the new design allowing The Lady of The Lake to move around in her kitchen with ease. LED under cabinet lighting along with fabulous fixture selection provides an ambience you have to see to believe. Quartered and riffed white oak planks make up the new floor. The remodeled full guest bathroom enjoys a wall that has a mirrored medicine cabinet surrounded by a one piece mirror for a striking effect. The new deck has a wonderful cable railing system that provides a clear view to the water. And let's not forget about the three new patio doors that now grace the "big room". The center door being 12' wide!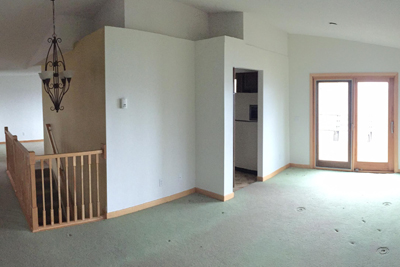 Existing walls were removed to make way for refreshed living space. Where there once was a mere 6' patio door, there is now a "wall of glass" which fills the space with a spectacular view and prime exposure to natural light. The color and grain of the new wood floor plays against the Zuri decking, outdoors, creating a pleasing contrast.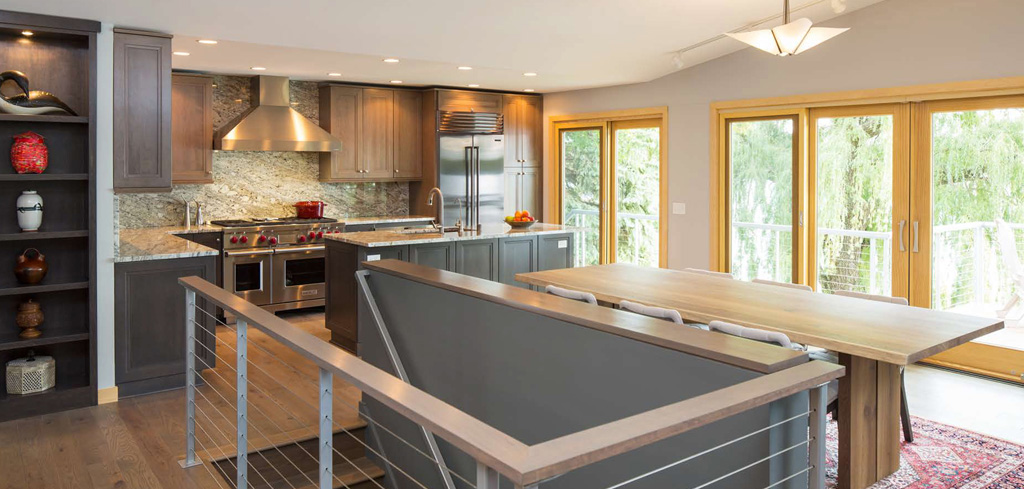 Spectacular lake viewing
Steel cable rail system
Wood flooring – Quartered and rift 5-½" white oak flooring and stairs with Rubio finish
Dining area and stairway with clear path of travel around each
Existing Structure Improvement
Pre-finished siding and soffit components will allow more time on the ski boat and less time on the ladder. Extending one plane of the roof provides a covered entry that is functional and beautiful. Sagging beams were replaced with engineered wood. Below the deck frame is a modern drainage system to mitigate water and provide shelter during a rain. The new mechanical system will provide proper venting and fresh air to ensure the home's comfort, safety, and durability.
The kitchen is open and bright, flowing into the dining and living areas. Appointed well, the kitchen sports luxurious materials and high-end appliances. Now ready for work and play, it accommodates a busy cook and is prime for food prep as well as entertaining.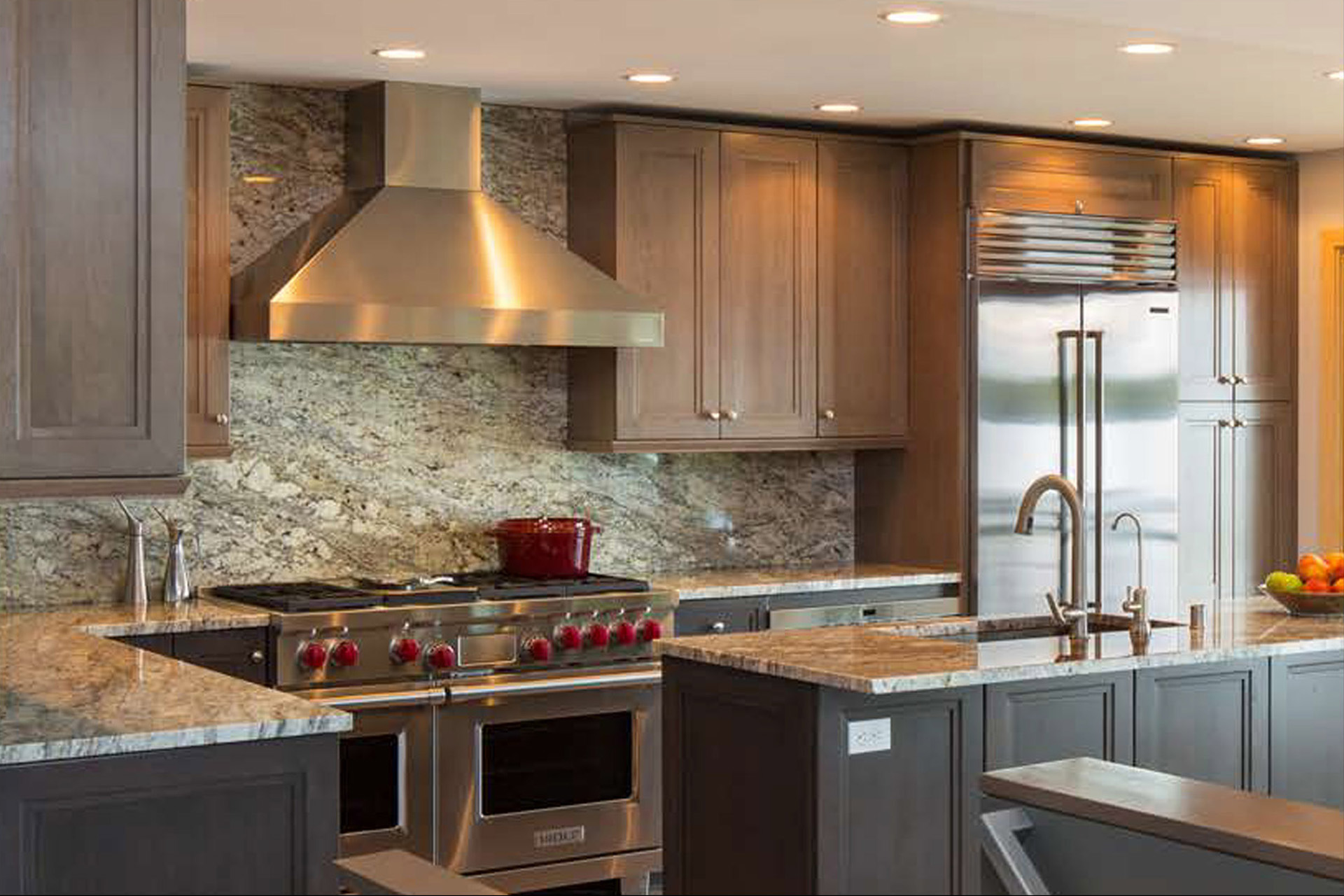 Sub-zero refrigerator
48" Wolf range
Wolf microwave
Miele Dishwasher
Vent-a-Hood exhaust fan
"We love our new kitchen redesign, improved function and appearance. The new island serves perfectly as a group work area and it's perfect for community."
Craftsmanship and Stellar Products
The stairway to the lower level walkout has new white oak treads and risers to match the new flooring. These parts are finished with a pigment and Rubio Oil for a warm appearance. The new deck sports new decking by Zuri that adds warmth to the exterior palate. Stainless steel cable railings and galvanized half round gutters add a nice tone to the overall appearance of the project.
Interior walls were removed and exterior walls carved out and brought to life with 24 feet of glass. Cable rails on now-open stairs complement the linear aspects of the room and add continuity with the deck rail system. This cozy space has an abundance of natural daylight, exceptional views, and unimpeded circulation.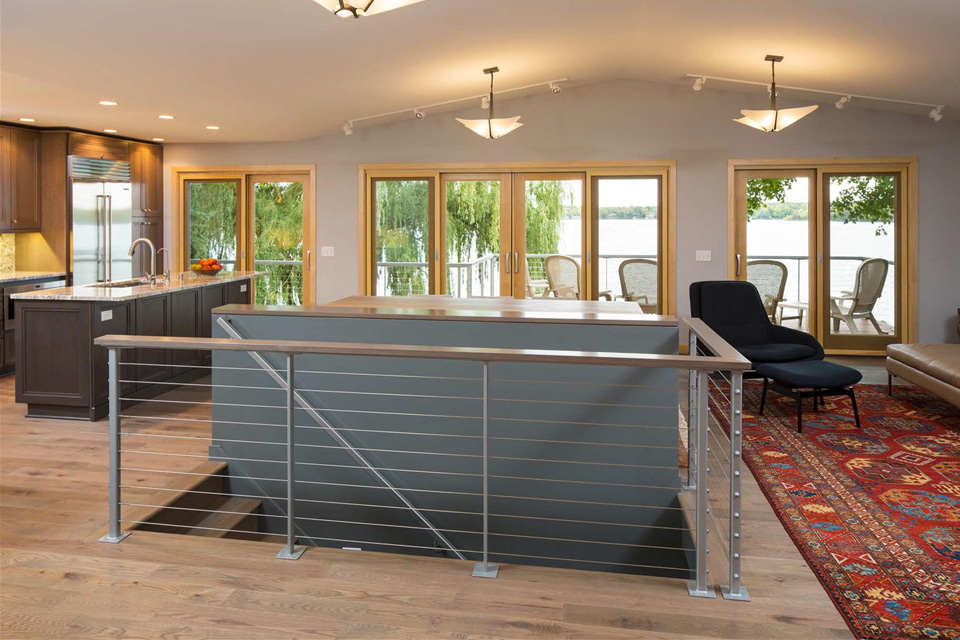 Glass, glass, glass
Stainless steel cable rail systems
Exquisite dimmable ceiling pendants
LED under-cabinet strip lights
Recessed cans and track lights are also strategically placed
Challenges
Replacing the electrical base board heat with a modern high efficiency forced air system was the biggest challenge. The attic insulation had to be removed along with the mechanical ducting. The AC unit was in the attic and was removed. This was a messy, cramped space in an older home that had been overlooked for years. Replacing sagging headers was a tough job as always. Keeping the home secure and water-tight was resolved by working with great trade partners and an agreeable schedule.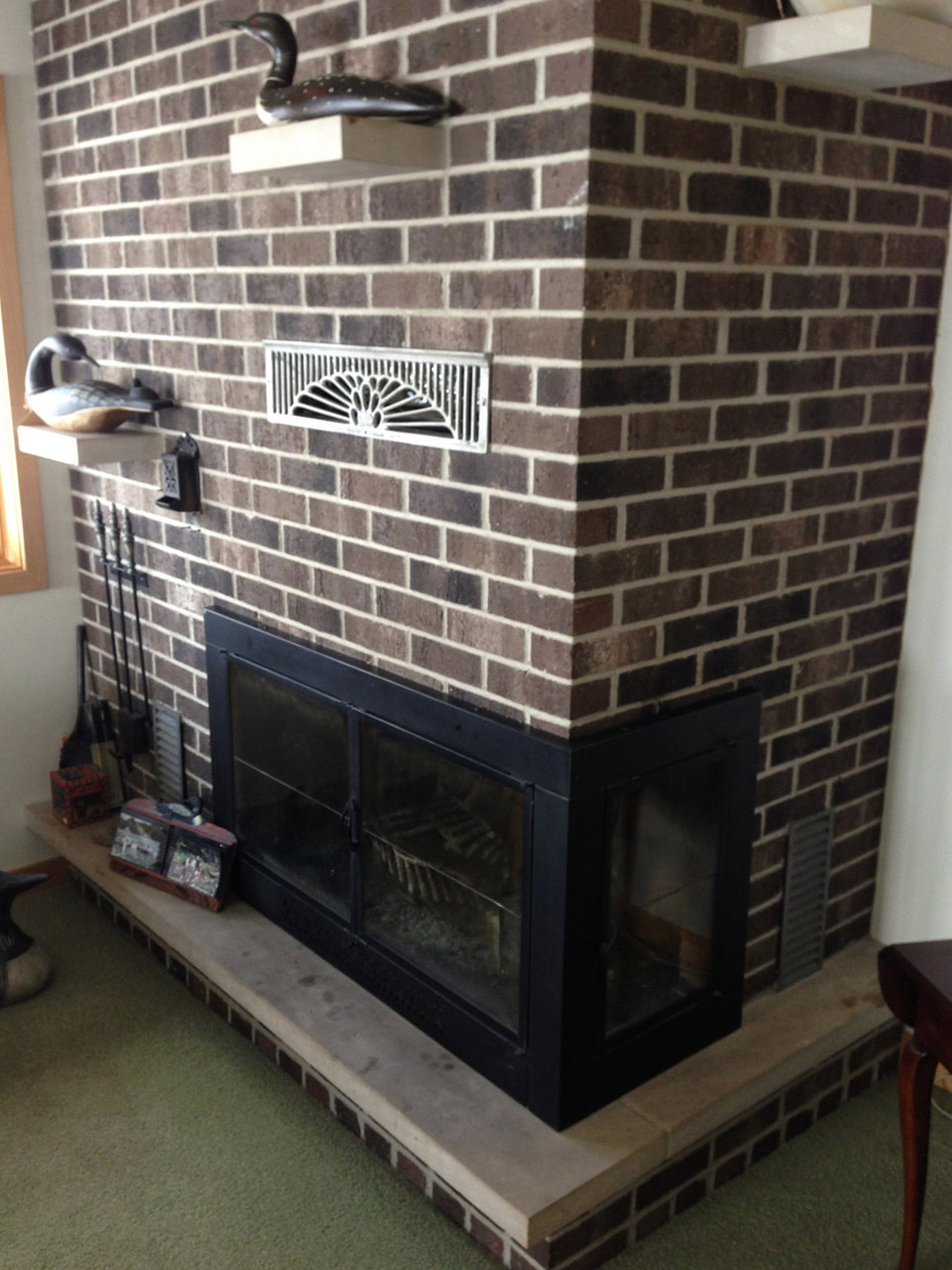 The wood fireplace was replaced with an efficient modern gas fireplace.
Same footprint
New veneer and cleaned hearth
New firebox and flue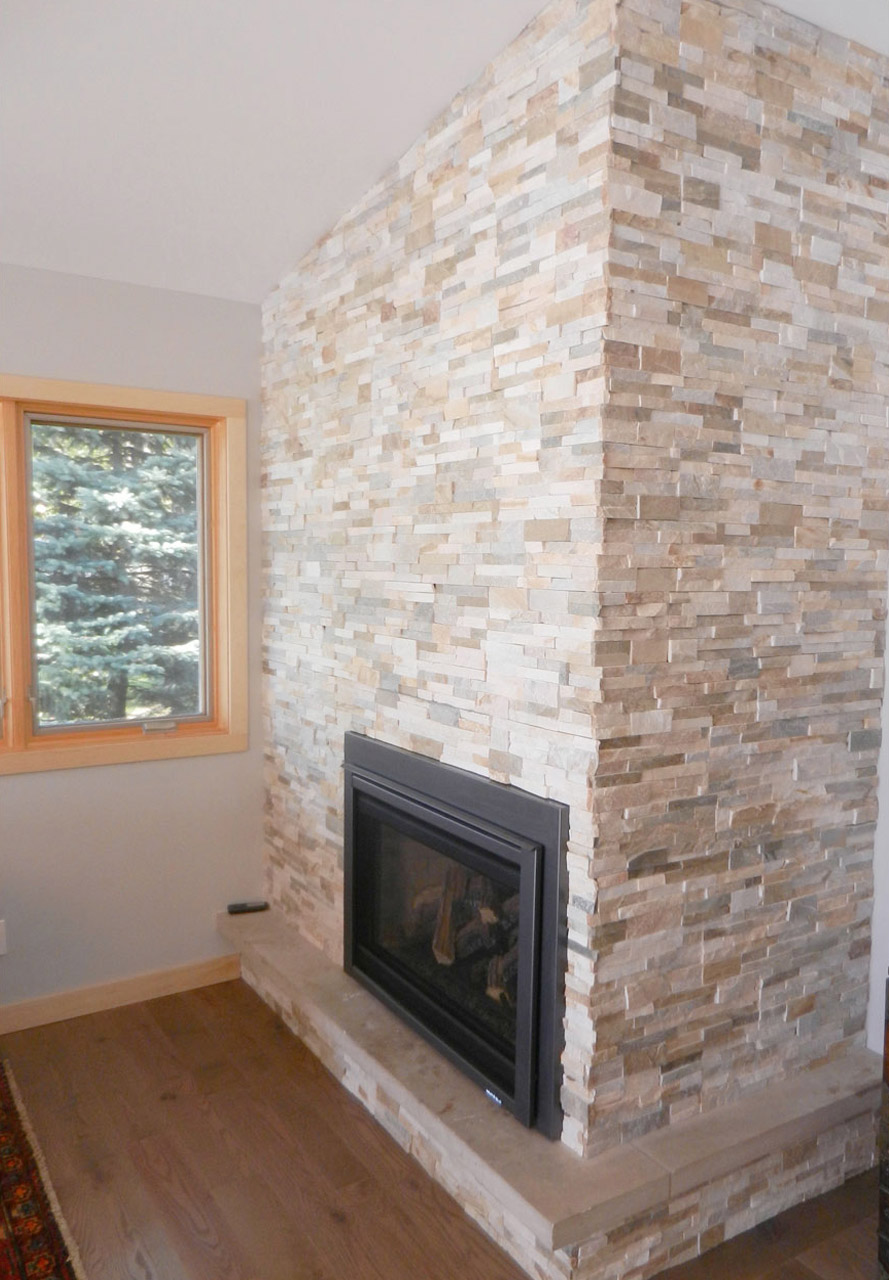 ---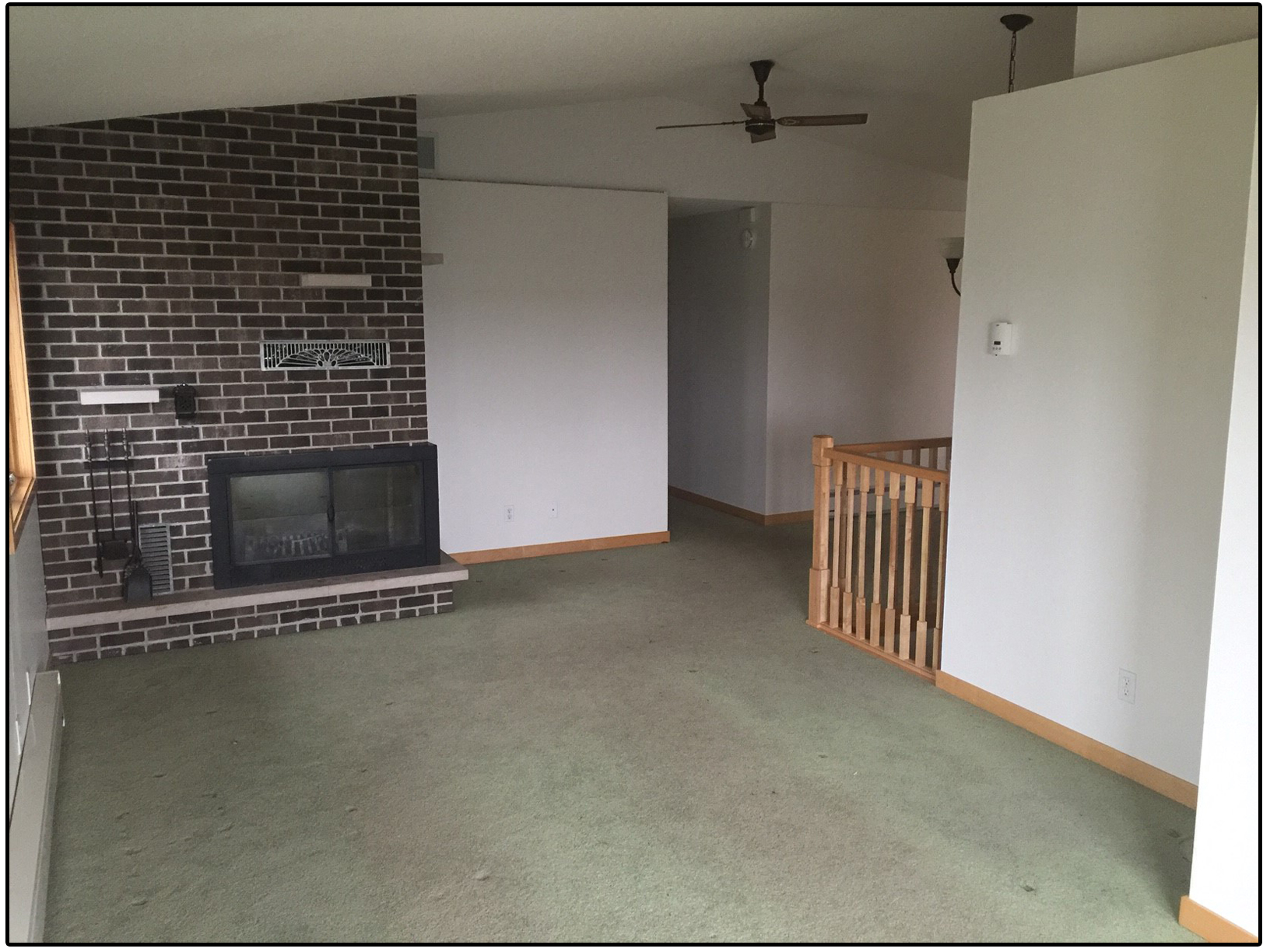 The living space did not flow with the rest of the house. Removing walls and adding glass served to brighten the space.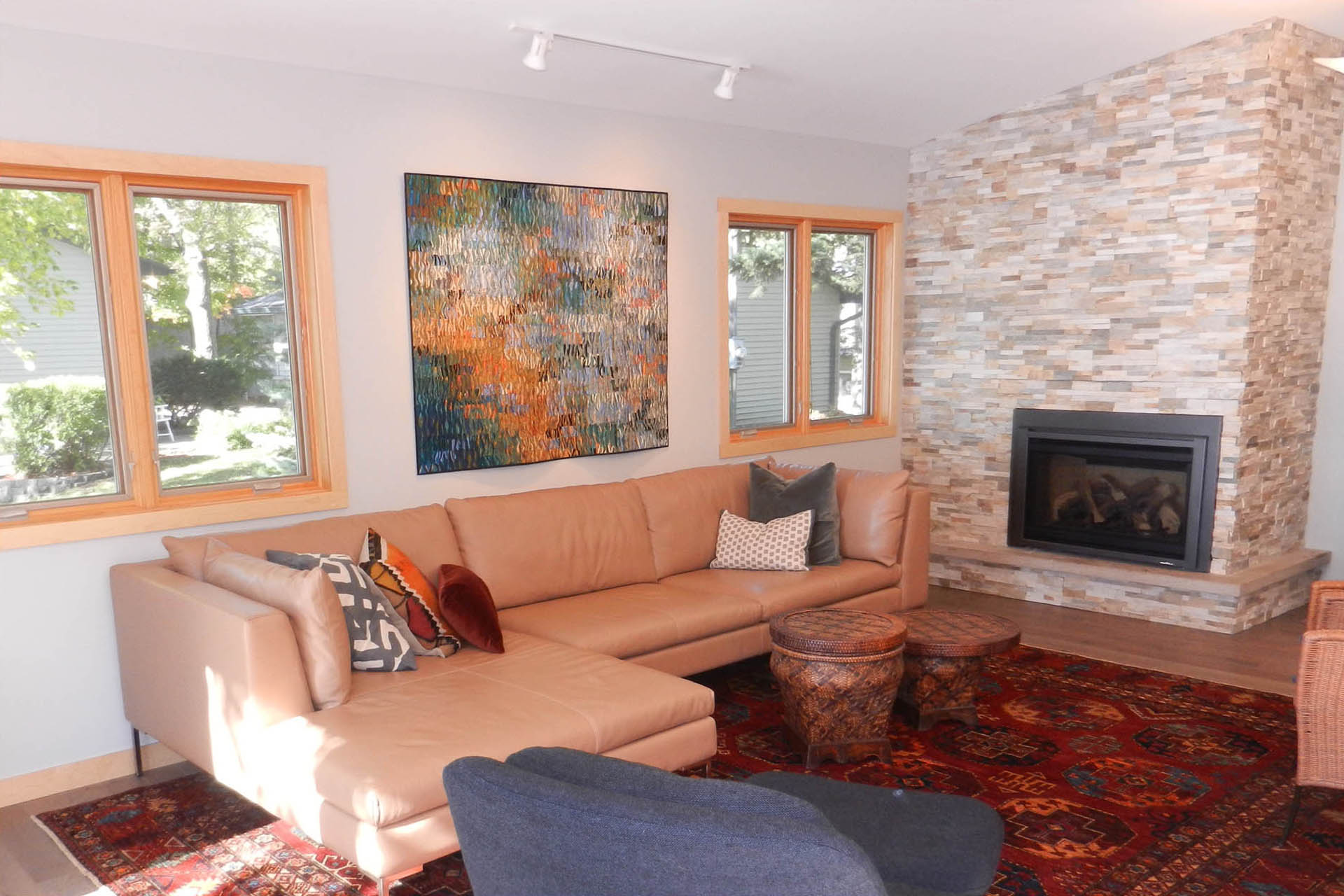 New Fireplace
Partition walls removed
New flooring
New maple millwork
Soft track lighting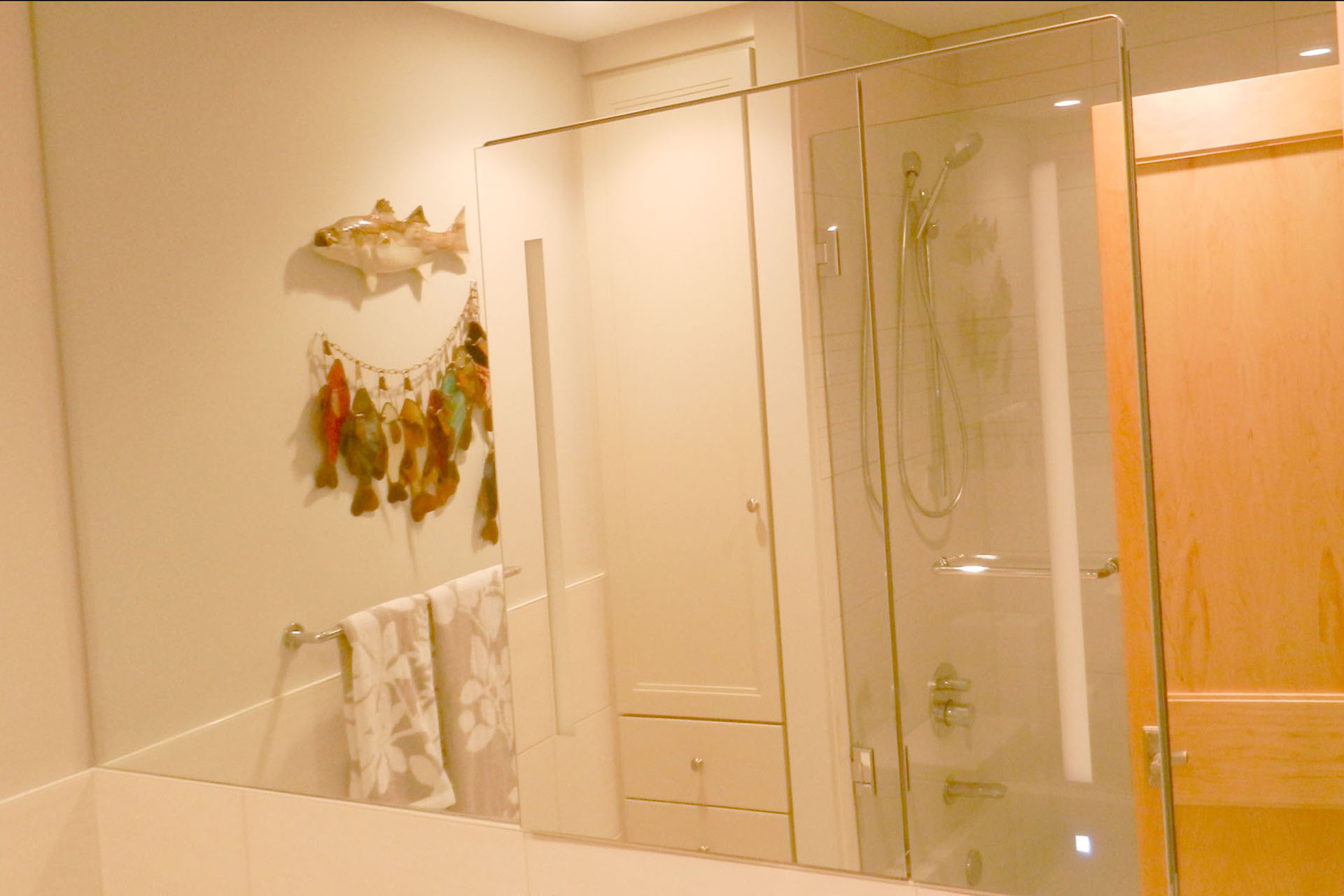 The guest bathroom was completely refreshed with modern finishes, maximizing a compact space with elegance, straight lines, and bright, classic fixtures.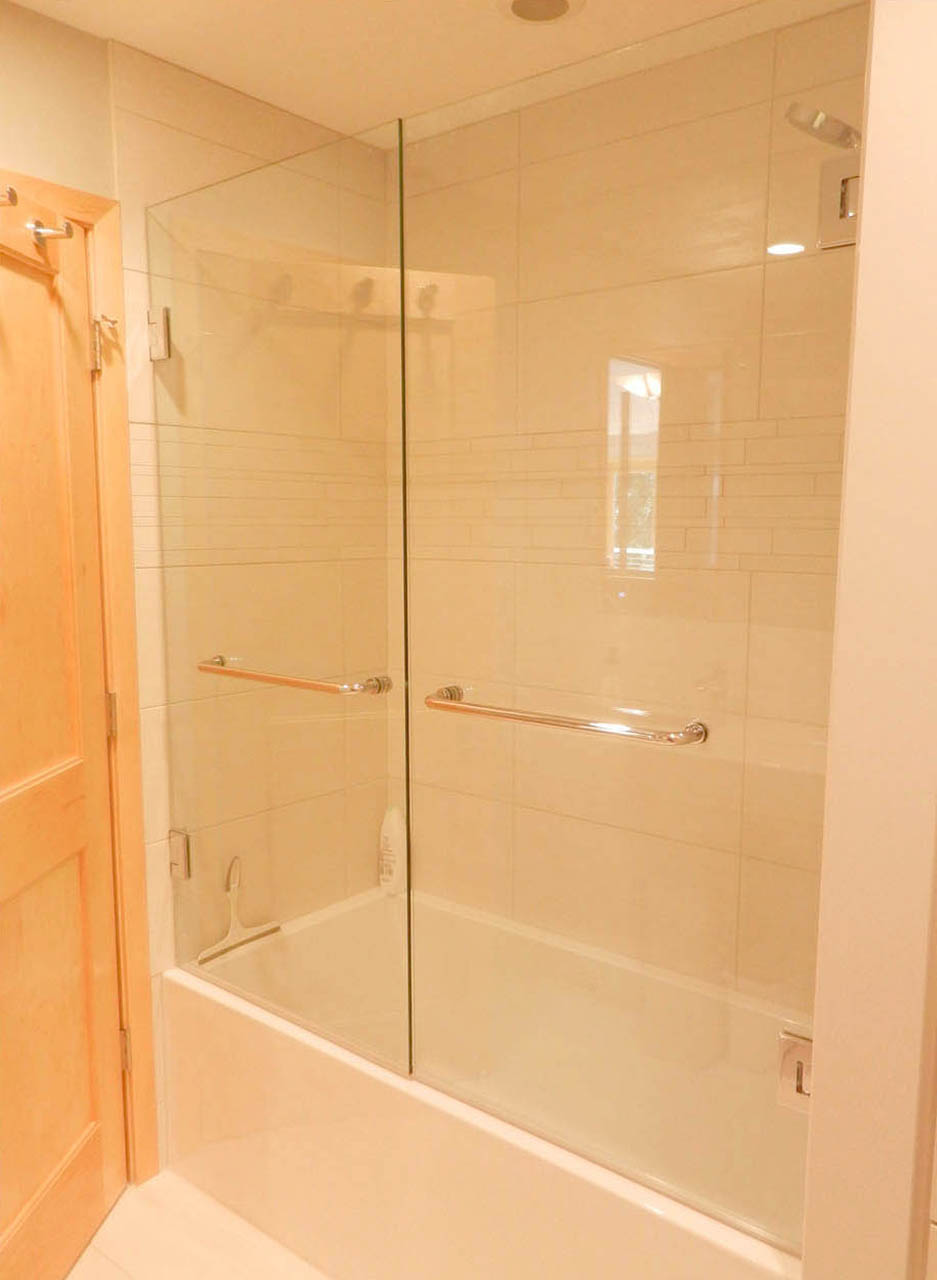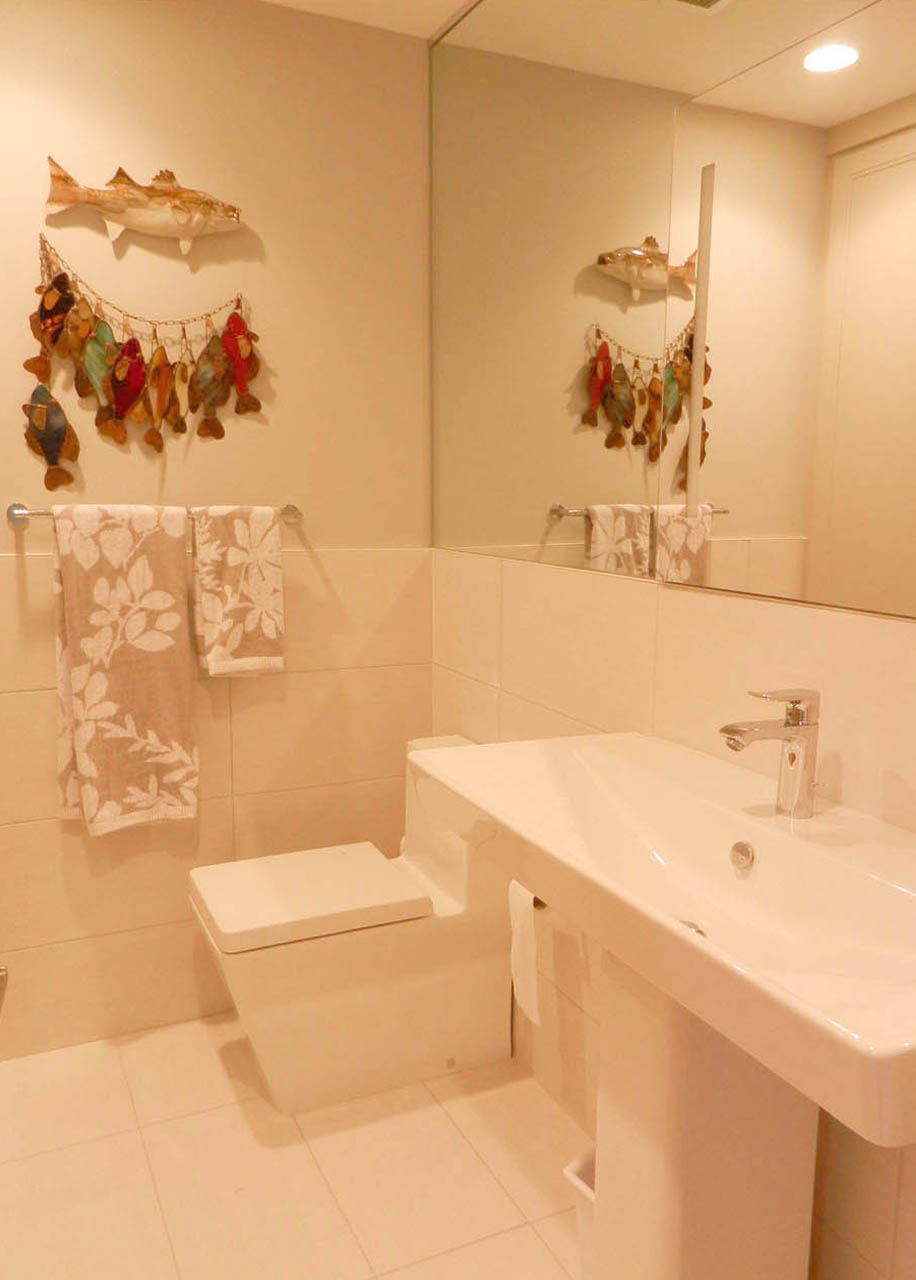 Robern mirrored medicine cabinet with a one-piece mirror surround
Frameless shower doors
New tub, tile, and fixtures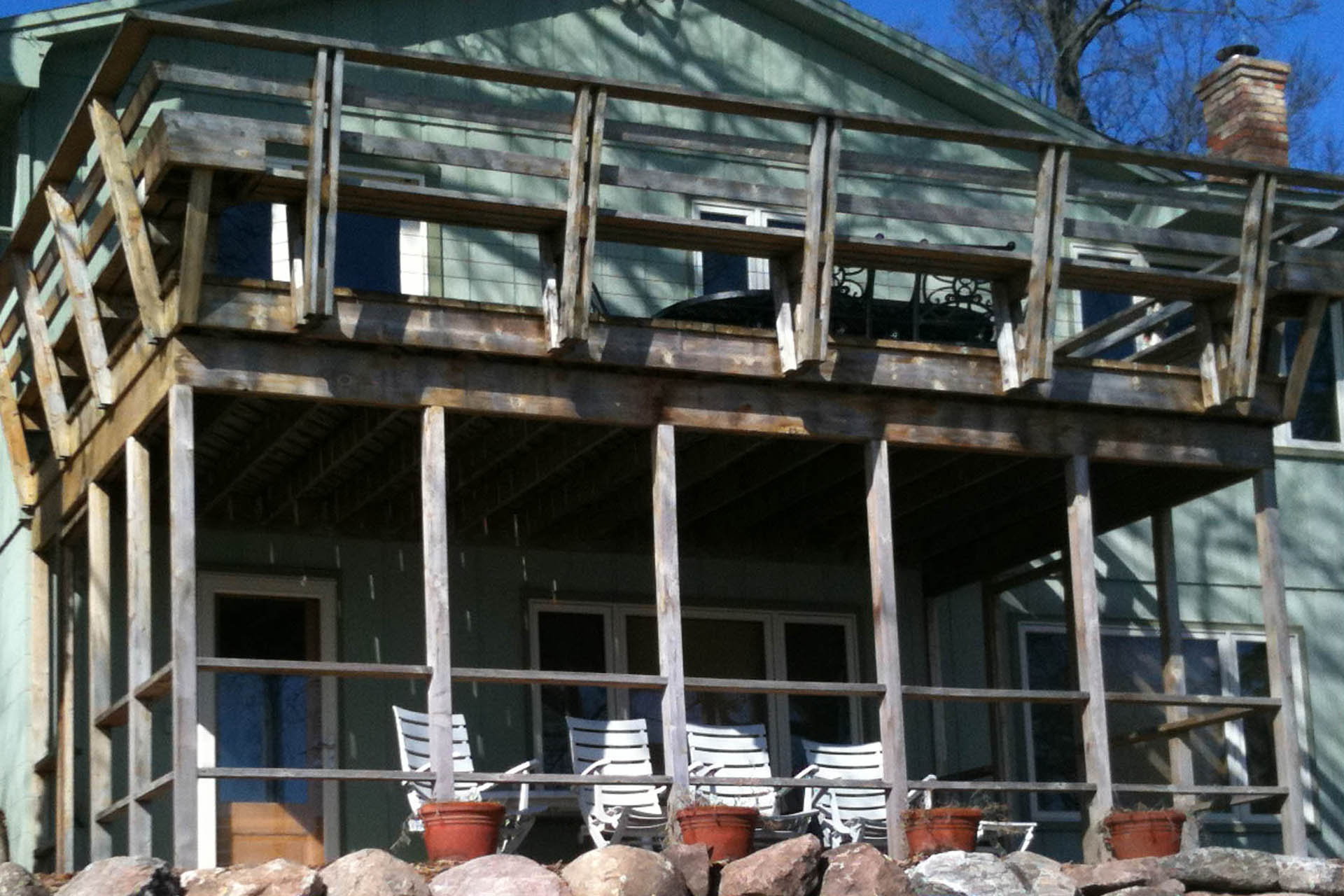 The old deck was tired and obstructed the view of the lake. The new deck and railing system brings curb appeal and proper scale to the house. The sleek and linear profile allows clear sightlines through the house and to the lake.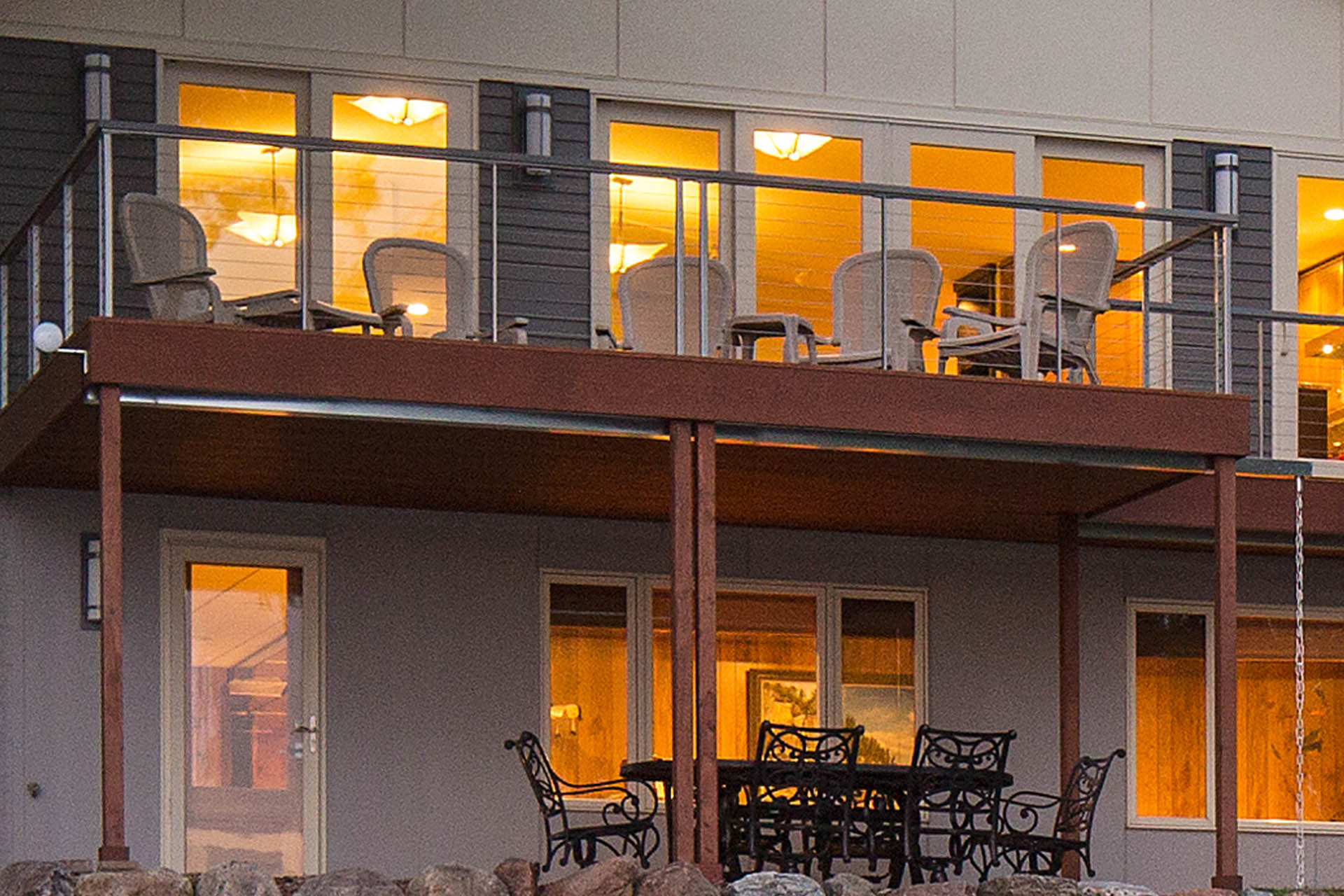 Zuri decking, Stainless steel rail system
Clear cedar under-decking
Visual connection with interior of the house
Scale / Balance with the house
Superior craftsmanship
"We like that the project used maintenance-free materials in the
siding and decking and gave us a greatly improved look to our lakehouse inside and out."
The Zuri decking and stainless steel cable rail system provide for a great sense of space and openness.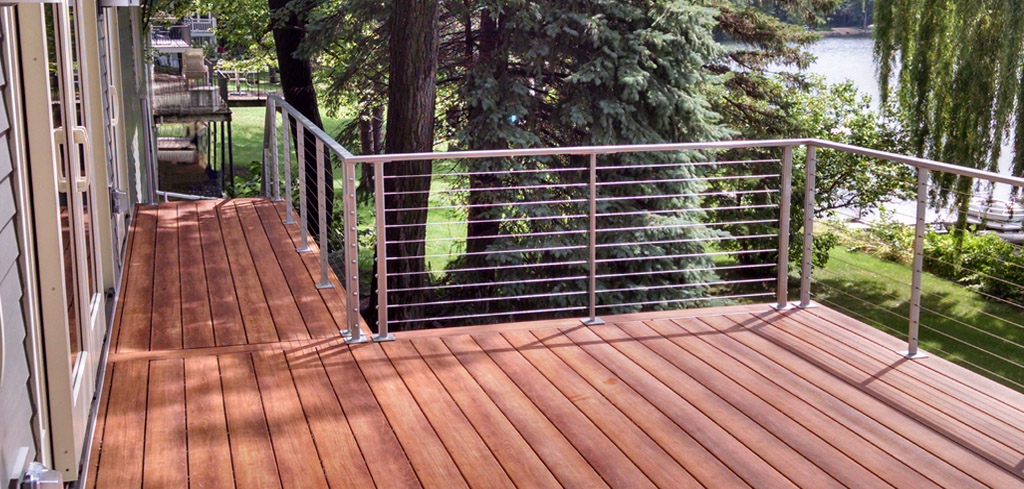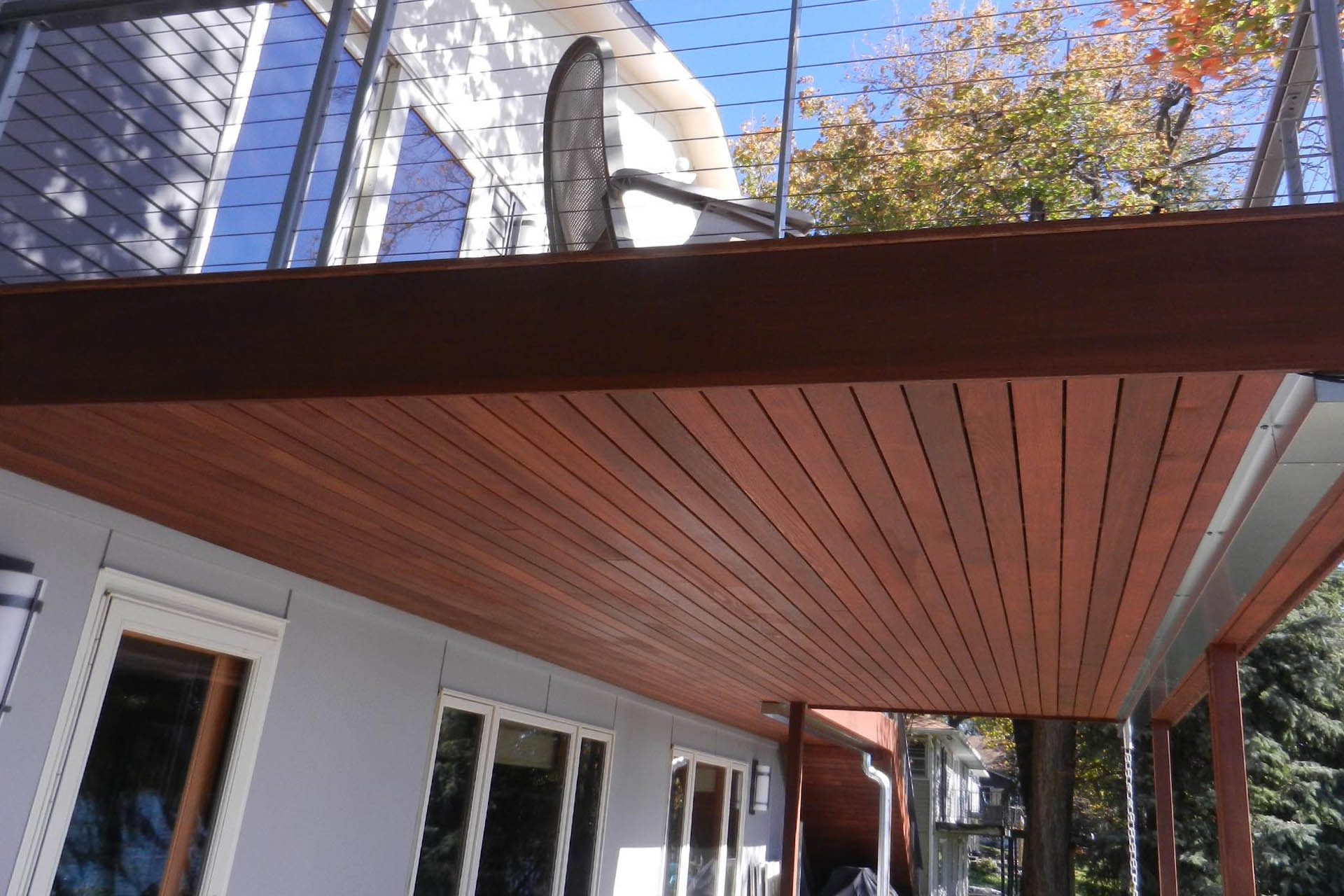 One innovative touch is found below the deck.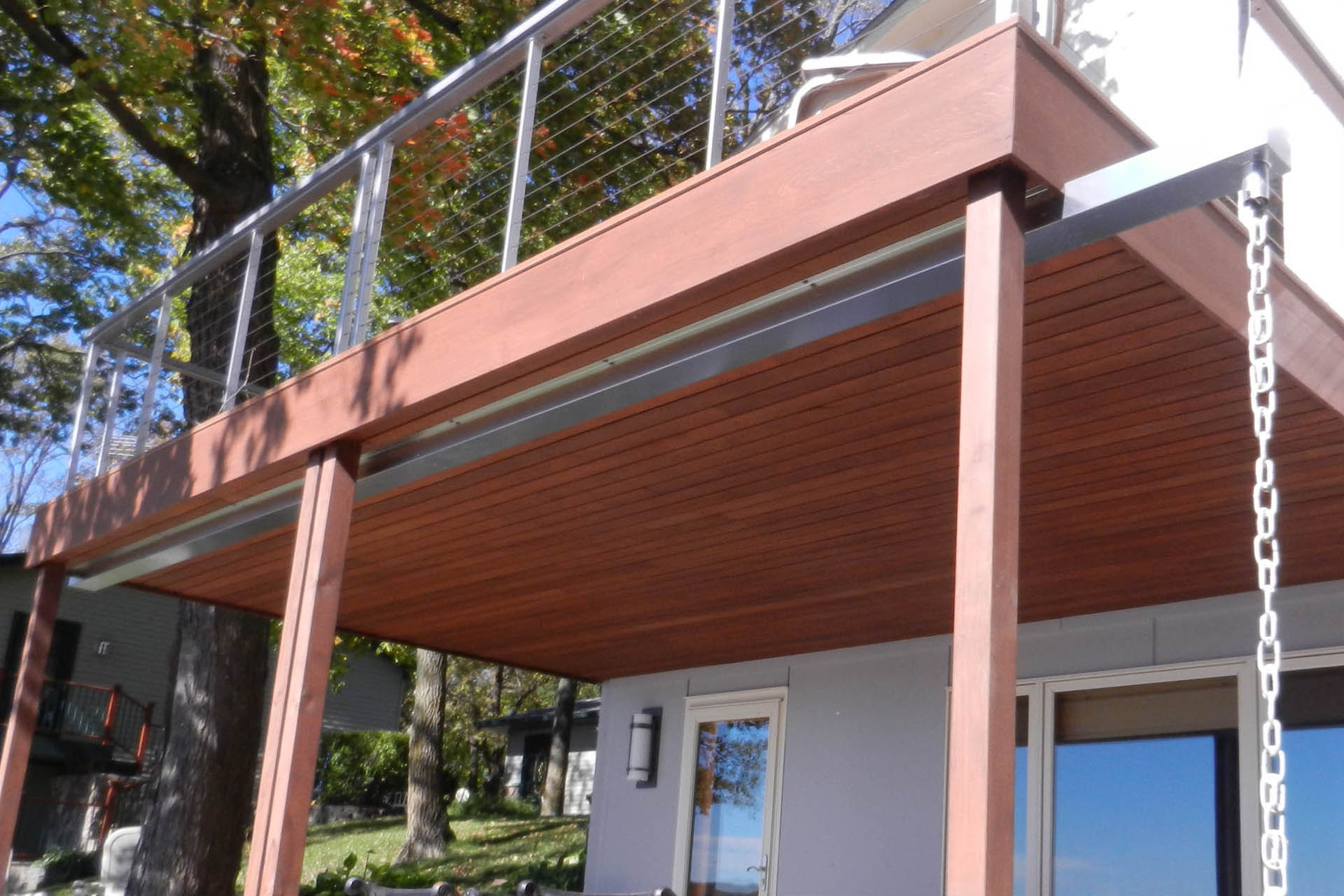 Under the deck boards, a trough system routes rainwater to a rain chain, which drains to a receiving basket.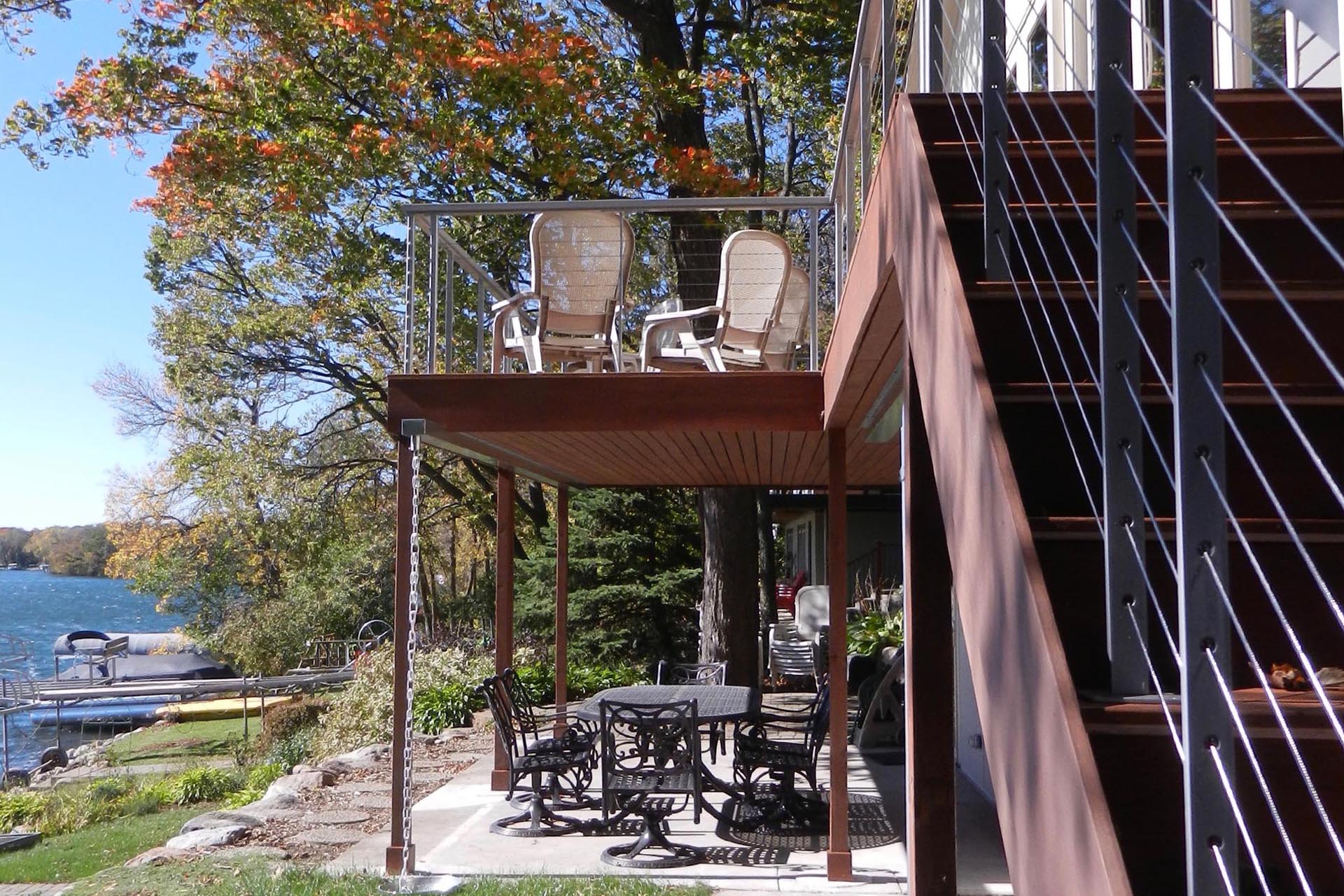 The layer of clear cedar conceals the trough system and provides a lovely ceiling for the patio seating below.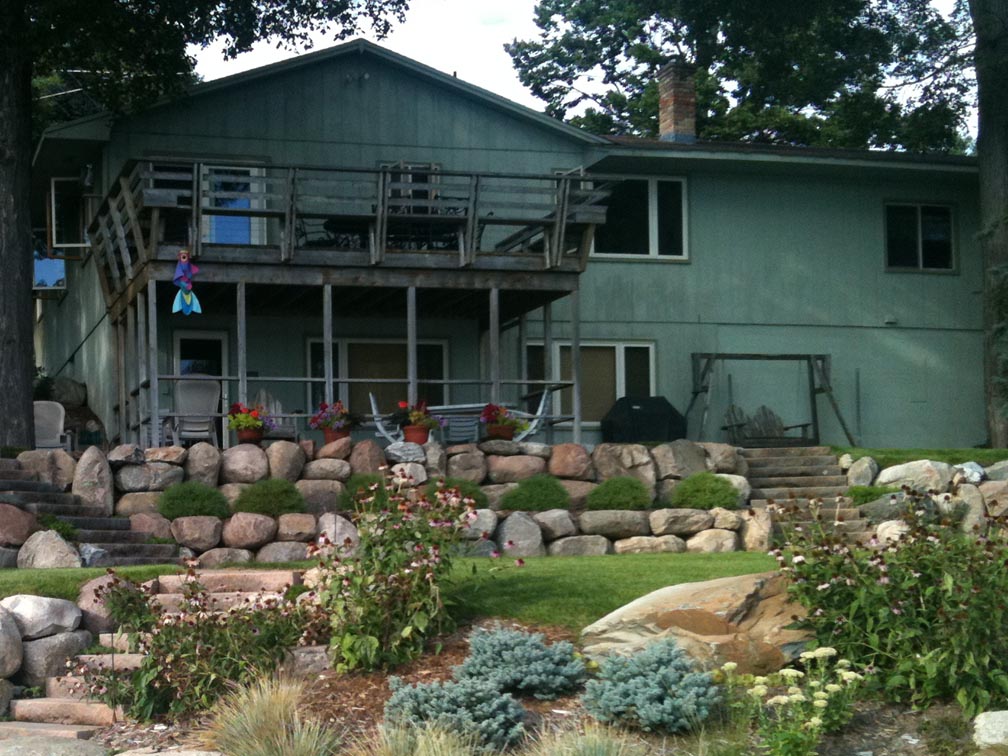 By replacing faded siding and an aging deck with new, modern finishes, the back of the house now has a fresh and welcoming presence. The rail system, trough, and rain chain add a pleasing contrast to the wood surround.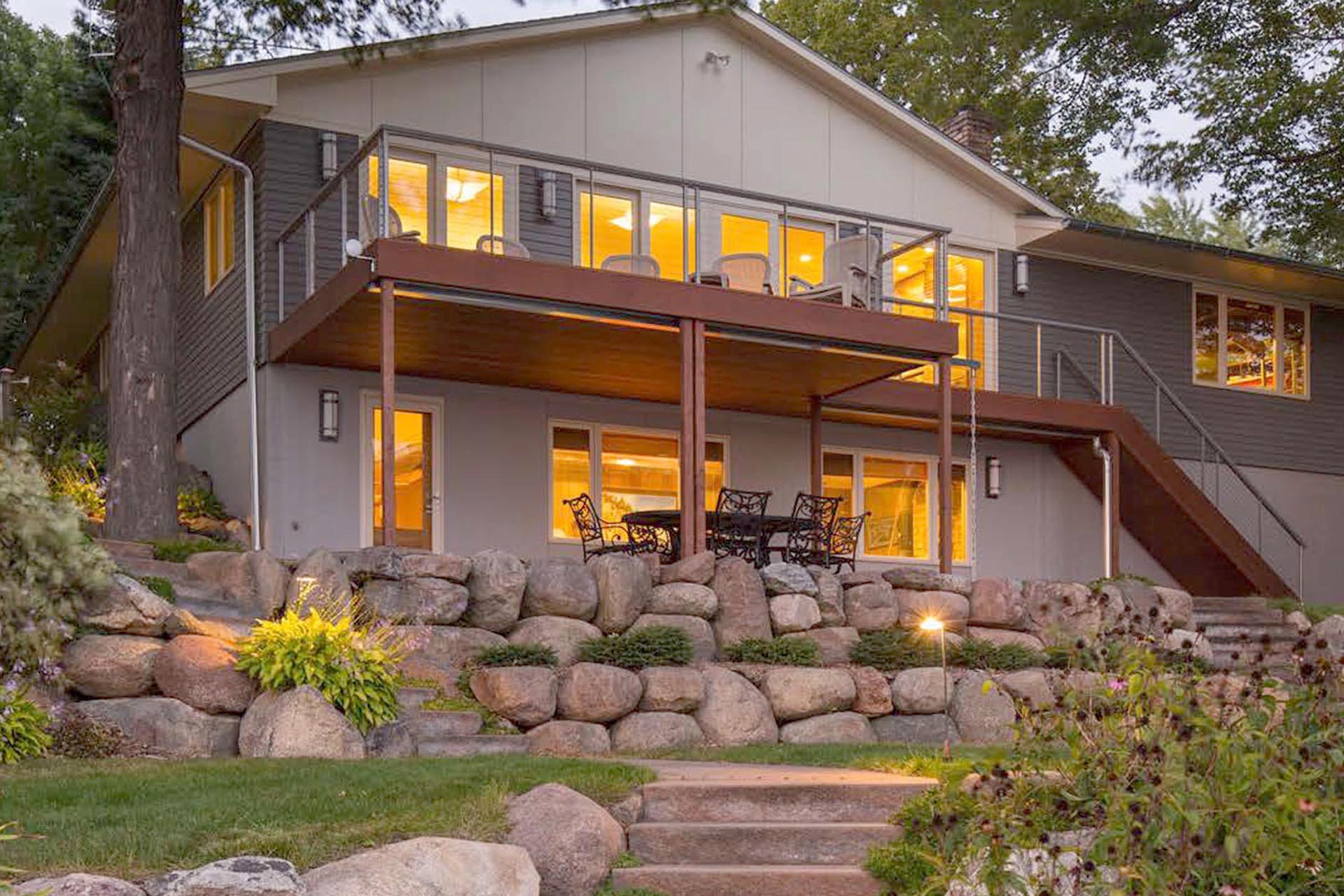 Pre-finished Hardie siding, fascia and soffits
Clear cedar under-decking
Stainless steel cable rail system
Galvanized rain trough and chain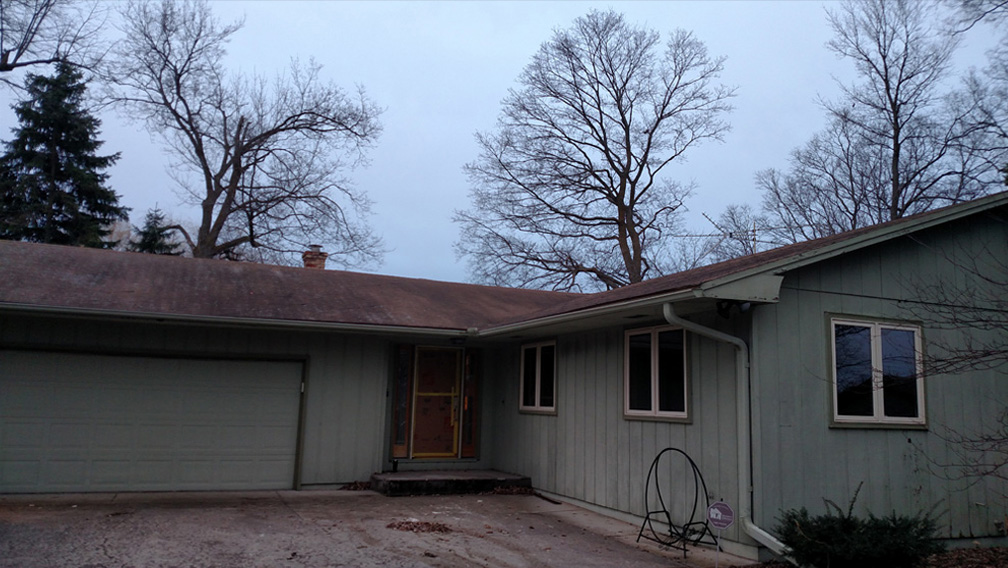 New exterior finishes are maintenance-free, combining beauty and functionality. With changes made to the roofline, along with a new front stoop, sidewalk and driveway, a fresh and inviting entryway was created. A new garage door and lighting complete the effect.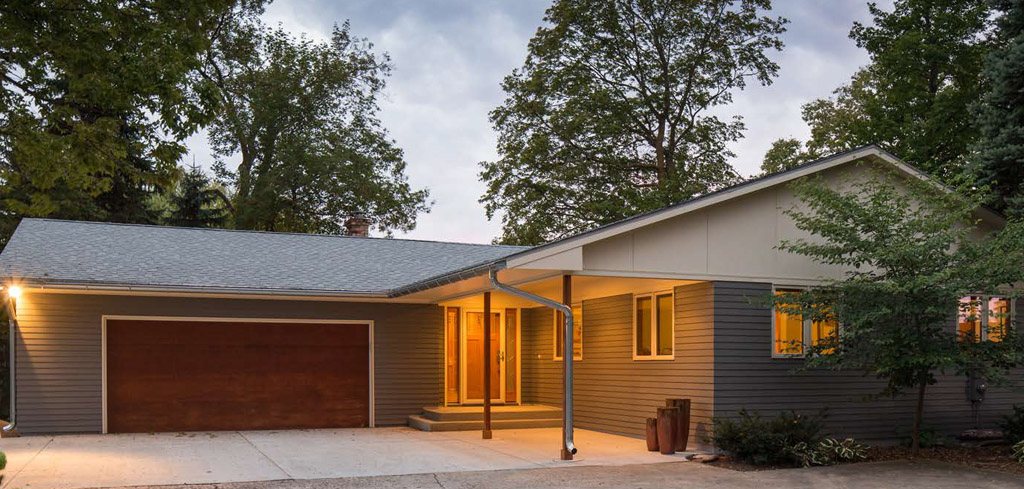 Expanded roof line
Hardie siding
Galvanized half-round gutters
Galvanized downspouts
A new and useful front stoop
Enhanced lighting
That pretty much wraps up this project! We love to answer questions about what, how, and why things are done on our projects. This one was an adventure and thoroughly enjoyable. It had a challenge or two, enough difficulty to keep us sharp, and a great client with wonderful taste! That's why we love what we do! Back to Our Collection